Table of Contents
---
Where We Grew Up: A Cyber Chapbook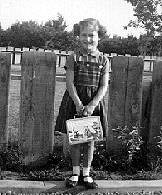 Small Game Collector
I was the hunter,
a tracker of totems,
stalking immature jackrabbits
through endless johnson grass thickets,
jungle acres of orchards.

Along ditch banks, I turned hot
chunks of cement to seize
gliding commas of garter snakes,
streaking blue-bellied lizards.
Practice perfected the technique
of snatching nervous swallowtail butterflies
from fiery clumps of blooming lantana.

I enclosed each savage pulse
in the net of my hungry
and acquisitive hand,
patrolling childhood's frontiers
to drag home the untamed.