Our Kauai Honeymoon
January 2004
---
We flew from the San Francisco Airport on Sunday, January 4, arriving at Lihue Airport on Kauai around 1:30 p.m. The 74 degree warmth was such a welcome change after the Monterey Peninsula's chilly, wet weather. Shortly after our arrival at the quaint little airport, Ollie retrieved our rental car, this sporty Mustang convertible.
In no time at all, we had driven through a paradise of palm trees, flowers, small villages, to our destination: Poipu Kai Resort Suite Paradise. Our condo is a one bedroom two story unit with two decks, overlooking the beach.
Here is a view of the gorgeous living room/dining room. We have a ceiling fan in both the living room and bedroom as well as lots of slatted glass windows that allow the cooler air to circulate and keep us comfortable.
The resort staff had stocked our condo with a wealth of fresh local fruit, all the basics for sandwiches and breakfasts, chips, soda, water, juice, and a chilled bottle of white wine.
We were given complimentary mai tais at check in which pretty much set the mood for the rest of the day. After quickly unpacking, we hiked all over the resort, wandering down to the beach.
Here are a few more photos of the condo:
The variety of trees, shrubs and flowers is absolutely staggering. Here is the view from our little front deck shown above: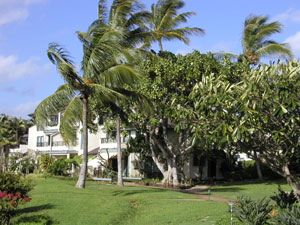 This is an example of some of the fruit grown right here on the resort property.
Arrogant and wildly colored roosters like this feisty character abound. Each rooster is accompanied by his harem of chubby hens.
After enjoying this magnificent sunset, we hiked to the restaurant here on the resort grounds for more mai tais and a wonderful seafood dinner.
Our very first day in Kaui was like a fairy tale. We are having such a wonderful time!