Alaska Cruise, July 2006
---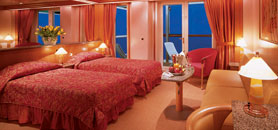 On Wednesday, July 12th, we flew from the San Francisco International Airport to Vancouver, British Columbia. Once we disembarked in Vancouver, we boarded a shuttle bus and drove forty minutes to the Carnival Pier where we boarded the Carnival Spirit cruise ship. This huge ship has approximately 900 staff members and 2500 passengers. There are seven of us: Ollie and myself, Bud and June Lewis, Herb and Inge Fellguth, plus Ollie's aunt Margrit who flew out from Germany to join us.

We have three adjoining suites that look similar to this picture. Each of us has a huge bathroom and dressing area, plenty of closet and shelf space, plus a little sitting area and large comfortable beds. We also have a twenty foot balcony overlooking the inland passage.
Throughout our week-long cruise, I will take photos and post them on the web site so friends and family can share our adventures. We will be traveling from Vancouver to Whittier, visiting glaciers, totem parks, and various cities.
Last night, we were all pretty exhausted from the flight and logistics of getting to the ship and getting settled in. So, our main focus was getting into our suites, having some dinner and simply relaxing. I have just a few photos from our first night, unfortunately none from the magnificent dining room and multitude of clubs, bars, shops, and recreation areas on board. I will try to remedy this in the coming days so everyone can get a flavor of the lush sumptuousness of this immense cruise ship.
---
Wednesday |Thursday | Friday | Saturday | Sunday | Monday | Tuesday | Home